In a world where distances often keep us apart, online services have emerged to let us listen to songs together. These platforms redefine how we share music, offering synchronized listening experiences from any location. Whether it's connecting with friends, having a virtual date night, or sharing music with family, these services use technology to bring people closer through the universal language of music. With features like playlist synchronization and real-time chat, they create a sense of togetherness, proving that distance can't hinder shared musical joy.
In Discord app you can listen songs with your friends with few steps
Firstly your Spotify account must be on a premium subscription. Otherwise this method will not work and make sure your Spotify account is connected with your Discord account, While the person that you want to listen to the song with is listening to a song click on his profile
You must see a button that says 'listen along with…'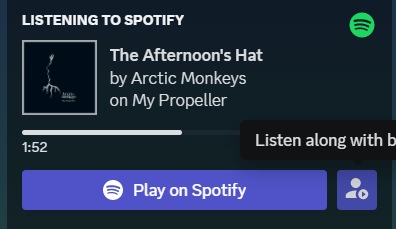 Click it and enjoy
Unfortunately only the person that you listening with is able to change the song
Spotify is the greatest option for the majority of people wishing to listen to songs with their friends or family because it's likely that you already use it to listen to music. Spotify launched Group Sessions in response to the COVID-19 pandemic to enable individuals to listen to music together, regardless of their geographic distance.
Up to seven listeners can participate in a Spotify Group Session, but each listener must be a Spotify Premium subscriber. Additionally, this function is restricted to the tablet and smartphone apps.
All you have to do to begin a Group Session is begin playing a song, then tap the Device button in the bottom-left corner and select Start Session. Next, provide a link or a session code to invite friends to your session.
Earbuds is a service that lets people listen to songs together online, no matter the distance. It creates virtual listening rooms where friends and family can sync up their music. This bridges the gap between loved ones, allowing shared musical experiences. Earbuds brings people together through the power of music, fostering connections across the digital space.
Apple Shareplay
Apple SharePlay is a service that transforms how people listen to music together, no matter where they are. It's seamlessly integrated into Apple's ecosystem. With SharePlay, users can share their music experiences, creating a virtual connection. It extends to movies, TV shows, and even screen sharing for a complete multimedia experience. SharePlay brings people together through synchronized music, fostering togetherness despite physical distance. It's an innovative service for our digital age.
Rave
Is a service that lets people listen to music together, no matter where they are. It's a virtual platform where friends can sync up their music and create shared playlists. With chat and voice call features, it's an interactive music experience. Rave fosters a sense of togetherness through the universal language of music, making it valuable for music lovers everywhere.
In a world where physical distances separate us, these services remind us of music's power to unite hearts. They've transformed how we bond with friends and connect with loved ones, making the world feel smaller and relationships stronger. As we harmonize our tunes, they prove that music transcends distance and brings us closer together, even in the digital age.