Hello! If you are beginner and interesting with acrylic art, you need some acrylic painting inspirations. Acrylic paints are cheap and easy to paint on canvas. So everyone can paint something on canvas with acrylics and paint as an hobby. Today I listed easy fruit acrylic painting tips for your inspiration. Come take your coffee or tea. You will love to see these ideas!
Acrylic Painting Craft Idea
This is an amazing looking acrylic apple painting on cardboard. A easy diy as a gift.
When it comes to easy acrylic painting ideas, fruits can be a delightful subject to explore. Whether you're a beginner or an experienced artist, painting fruits can offer a fun and accessible way to experiment with color, form, and texture. From vibrant berries to juicy citrus fruits, there are endless possibilities to capture the beauty and freshness of these natural delights.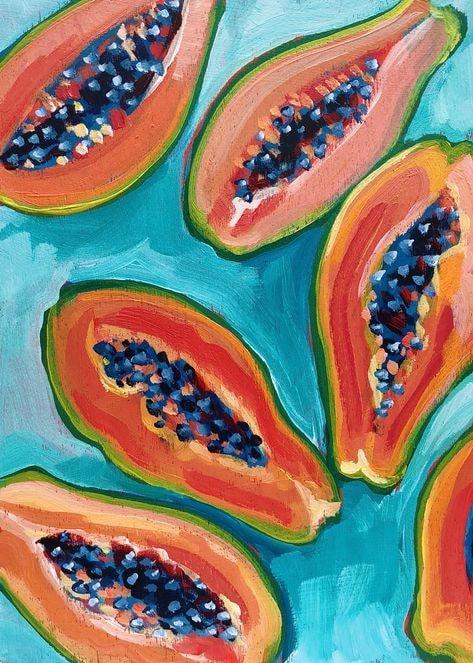 Another aspect to explore in fruit paintings is their vivid colors. Fruits come in a wide range of hues, from the bright oranges of tangerines to the deep purples of grapes. Use your acrylic paints to mix and blend colors to capture the vibrancy and richness of each fruit. Experiment with different color combinations and techniques, such as layering and glazing, to achieve the desired effect.
Easy watermelon paintings with acrylics
As with any painting, practice is key. Start with simpler fruit compositions and gradually challenge yourself with more complex arrangements. Take time to study the fruits you want to paint, observe their unique characteristics, and translate them onto your canvas. Don't be afraid to experiment and make adjustments along the way. Remember, the beauty of acrylic paints is that they allow for layering and corrections, so feel free to explore different techniques and refine your artwork until you're satisfied with the result.
These cutie patootie fruit paintings are here to bring some fun and colour to your home! Credit: Swathi Kirthyvasan
A tip for acrylic painting
1) When choosing acrylic paint, choose a paint with a high pigment rate that suits your budget. Because poor quality acrylic paints dry slower and change color when dry. Buy high pigment acrylic paints!
If you want to learn more for imrove your acrylic painting you should visit 30+ Acrylic Painting Tips & Hacks post.

To add interest and context to your fruit paintings, consider incorporating other elements into the composition. You can include a fruit bowl, a cutting board, or a backdrop of lush green leaves to create a more complete scene. These additional elements not only provide visual interest but also offer opportunities to explore different textures and surfaces.
One approach to painting fruits is to focus on their unique shapes and textures. Consider the smooth and rounded contours of apples or the intricate patterns on the skin of a pineapple. Use varying brushstrokes and techniques to convey the different textures of each fruit, whether it's the roughness of a kiwi's exterior or the velvety softness of a peach. Don't be afraid to play with light and shadow to add depth and dimension to your fruit paintings.
One of simple acrylic paintings. This acrylic painting idea looks like came from ancient egypt! Acrylic colors can give you more movement space. Keep read list!
A realistic example of acrylic painting. Moreover, it is a fruit that looks quite delicious. Shading can be a little difficult. But you can learn acrylic painting techniques from here.
In conclusion, exploring easy acrylic painting ideas with fruits as the subject can be a rewarding and enjoyable experience for artists of all levels. Whether you're a beginner looking to practice your brushwork and color mixing skills or an experienced painter seeking a fresh and vibrant subject, fruits offer a wealth of inspiration. By focusing on the unique shapes, textures, and colors of different fruits, you can create stunning and expressive acrylic paintings that capture the beauty and essence of these natural wonders. So, grab your paints, set up your palette, and let your imagination run wild as you bring fruits to life on your canvas.
If you are a beginner and love acrylic painting, what are you waiting for? Take your acrylic paint and canvas and start painting. Do more practice from these easy acrylic painting ideas. Also, share us on Pinterest! Thanks.