Hello! If you are beginner and interesting with acrylic art, you need some acrylic painting inspirations. Acrylic paints are cheap and easy to paint on canvas. So everyone can paint something on canvas with acrylics and paint as an hobby. Today I listed easy fruit acrylic painting tips for your inspiration. Come take your coffee or tea. You will love to see these ideas!
Acrylic Painting Craft Idea
This is an amazing looking acrylic apple painting on cardboard. A easy diy as a gift.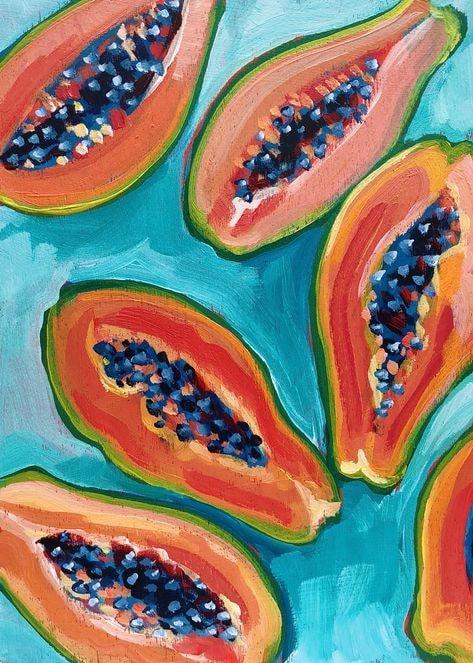 Easy watermelon paintings with acrylics
These cutie patootie fruit paintings are here to bring some fun and colour to your home! Credit: Swathi Kirthyvasan
A tip for acrylic painting
1) When choosing acrylic paint, choose a paint with a high pigment rate that suits your budget. Because poor quality acrylic paints dry slower and change color when dry. Buy high pigment acrylic paints!
If you want to learn more for imrove your acrylic painting you should visit 30+ Acrylic Painting Tips & Hacks post.

One of simple acrylic paintings. This acrylic painting idea looks like came from ancient egypt! Acrylic colors can give you more movement space. Keep read list!
A realistic example of acrylic painting. Moreover, it is a fruit that looks quite delicious. Shading can be a little difficult. But you can learn acrylic painting techniques from here.
If you are a beginner and love acrylic painting, what are you waiting for? Take your acrylic paint and canvas and start painting. Do more practice from these easy acrylic painting ideas. Also, share us on Pinterest! Thanks.