Hello! I know you love acrylic painting. So today I complied step by step acrylic painting ideas for beginners from respected artist. I hope you like these easy acrylic painting ideas for beginners. You can also look for more art inspiration 80+ Easy Acrylic Painting Ideas For Beginners – Inspiration.
Acrylic painting is a versatile and vibrant medium that allows beginners to explore their artistic skills and create beautiful artworks. If you're new to acrylic painting, step-by-step tutorials can provide helpful guidance and instruction to develop your technique and confidence.
Take your coffe or tea. Because you will be looking at these step by step easy acrylic art tutorials for quite a long time. I guarantee you'll grab your paintbrush and start creating. Just don't forget to clean it properly afterward.
Daisy acrylic painting
A wonderful easy flower acrylic painting idea. You can do this using the painting brush and two simple acrylic colors.
American flag painting
Azure sky and forest. American flag painting on canvas. Looks nice.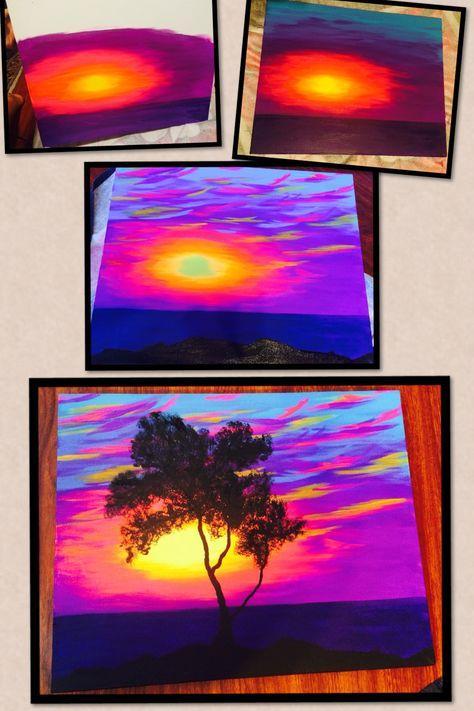 Follow the tutorial carefully, paying attention to the instructor's instructions on color mixing, brushwork, and application techniques. Start with simple shapes and gradually build up layers and details. Many tutorials break down the painting process into manageable steps, allowing you to work at your own pace and focus on mastering each stage.
Paint coffee cup
Acrylic forest painting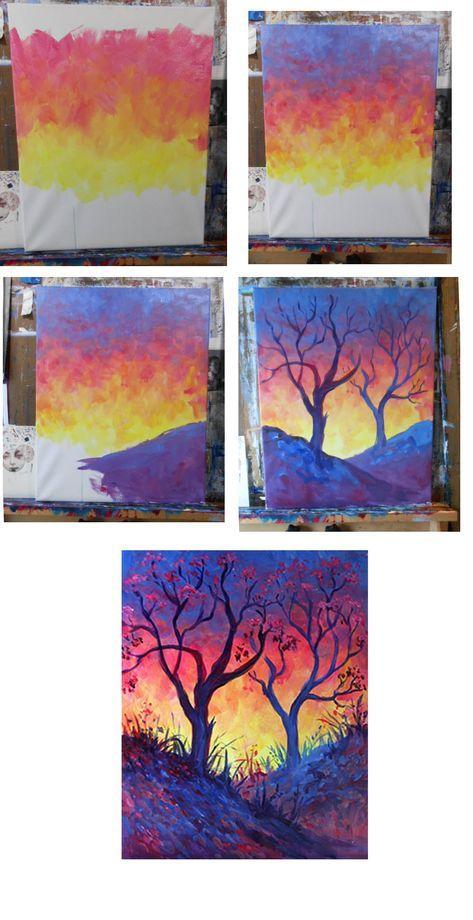 Step by step moon painting , easy steps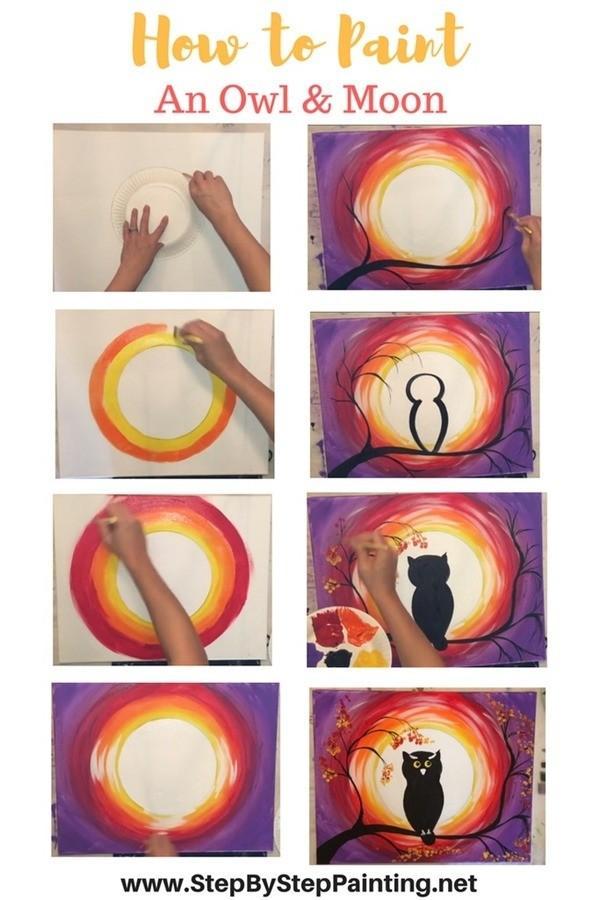 Let's see the night owls? One of the great acrylic painting ideas. You can give the shape of the moon using a plate. Then it remains to paint and mix colors. A charismatic owl paint on canvas. That's it.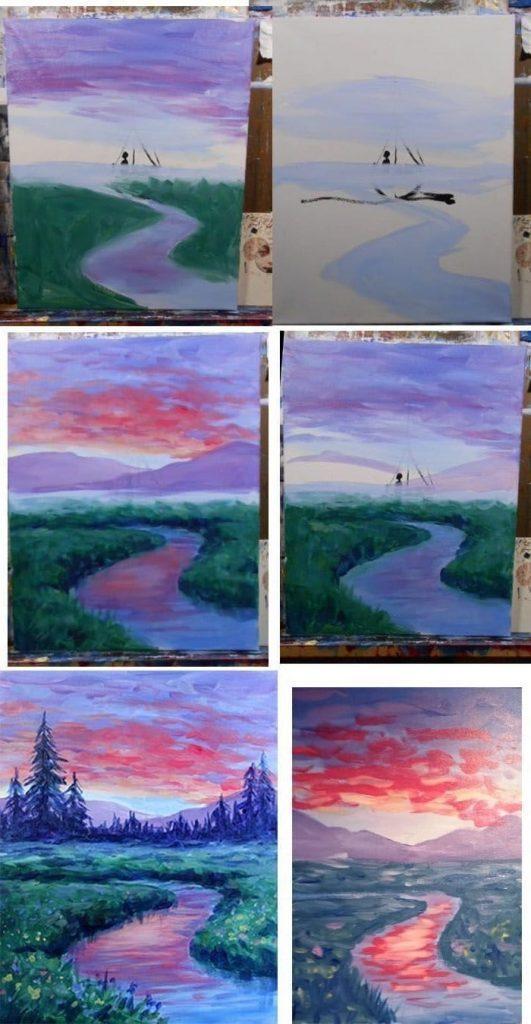 As you progress through the tutorial, don't be afraid to experiment and add your own creative touches. Acrylic paint dries quickly, making it easy to layer colors and make adjustments as you go. Use different brush sizes and techniques to create texture, blend colors, and add depth to your artwork.
Tree painting
Imagine a pink world and close your eyes. Feel the dance of the brush and acrylic paints. Blue and pink world. A lonely tree in the middle.
Remember, the goal of these tutorials is not to create an exact replica of the instructor's painting, but to learn and practice new techniques. Embrace the process of learning and enjoy the journey of discovering your own style and artistic voice.
House painting
With practice and perseverance, you'll gain confidence in your acrylic painting skills and be able to tackle more complex subjects and compositions. Don't hesitate to explore different tutorials and techniques to broaden your artistic repertoire.
Watercolor paintings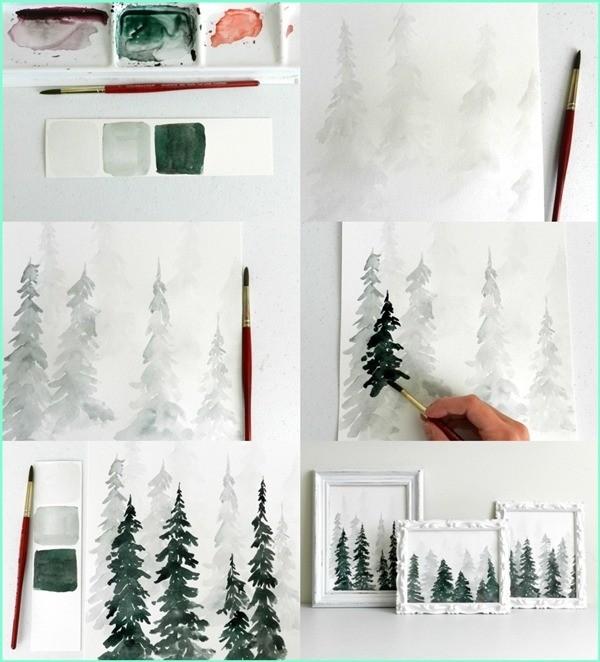 One of the benefits of step-by-step tutorials is that they cater to different skill levels. Beginners can start with simpler tutorials that focus on basic shapes and gradually progress to more complex subjects and compositions. This allows beginners to build their skills and confidence over time, challenging themselves with each new tutorial.
Furthermore, step-by-step acrylic painting tutorials encourage creativity and personal expression. While the tutorials provide guidance, they also leave room for individual interpretation and experimentation. Beginners can adapt the techniques they learn to their own unique style and subject matter, allowing their creativity to shine through in their artwork.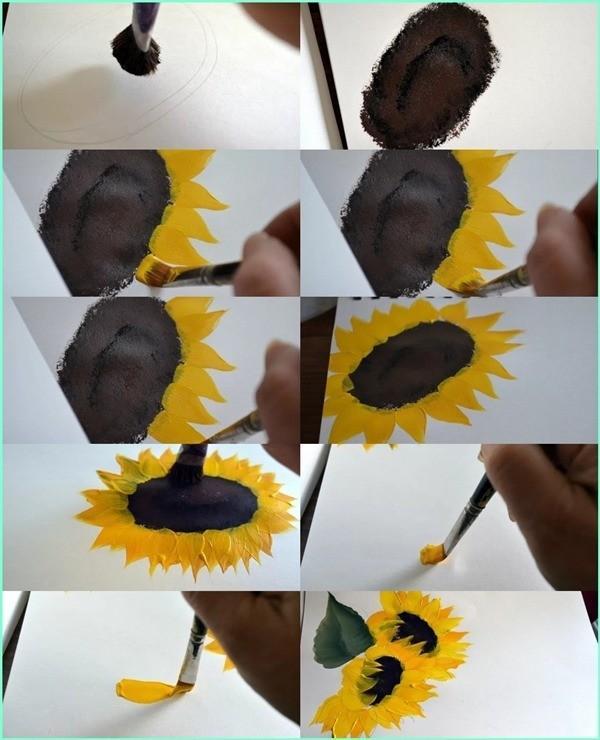 A cute and easy diy art example. It can be easy craft art especially for kids
.

Sunflower painting
Ornament painting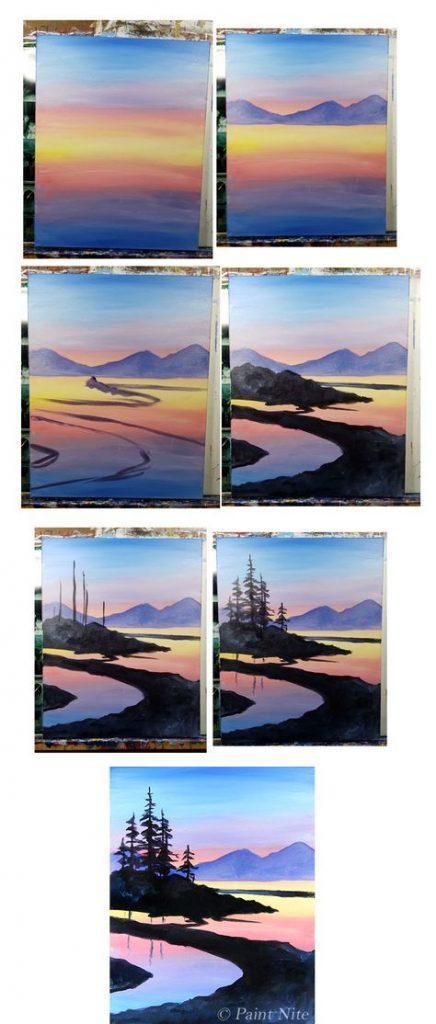 Aurora skyline painting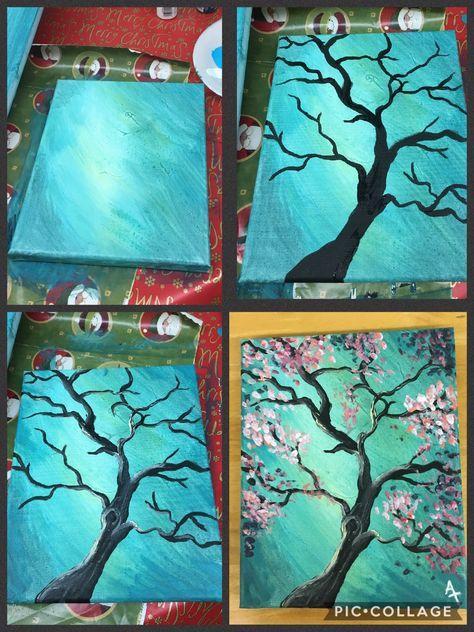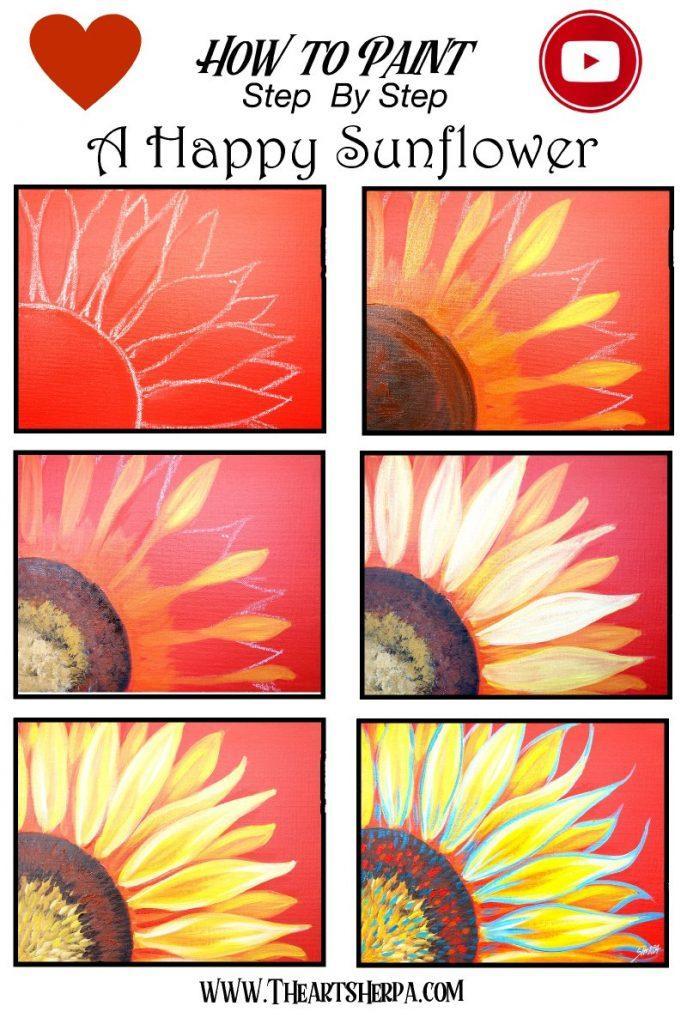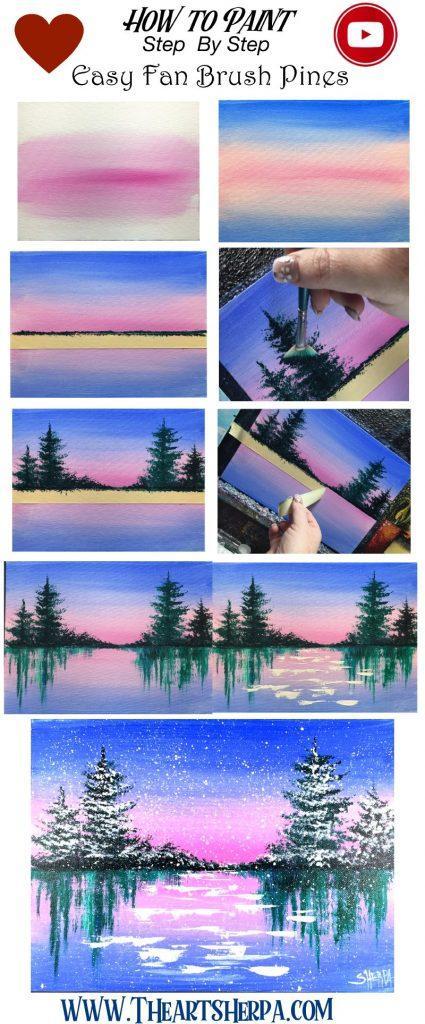 You can paint this idea with fan brush. Also you can watch tutorial Easy Abstract Painting For Beginners – Acrylic Forest.

Love birds acrylic painting. Easy diy acrylic painting idea for beginners. You can paint on canvas and gift to your lover. This is amazing diy gift idea for lovers I think.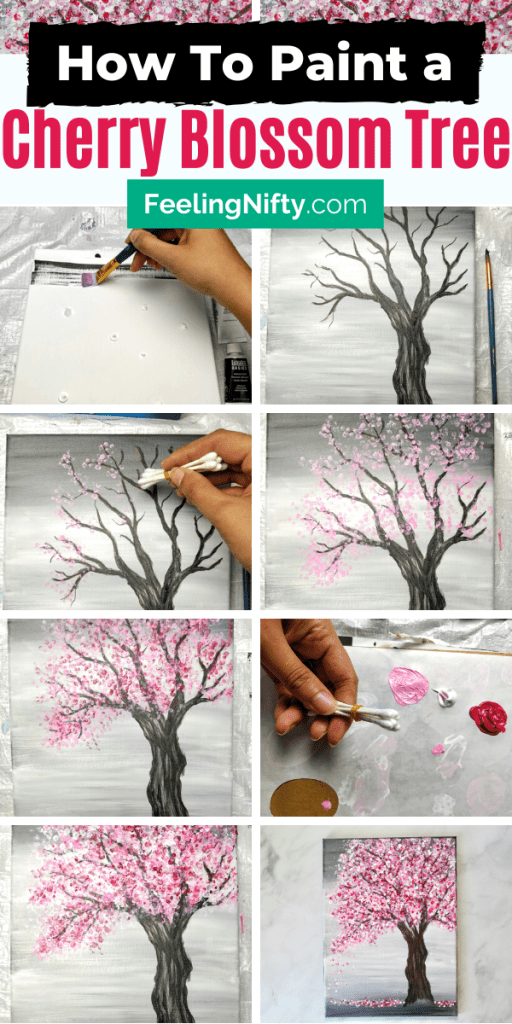 Whether you're an absolute beginner or have some prior painting experience, step-by-step acrylic painting tutorials are a fantastic way to develop your skills and embark on a creative journey. So, grab your paints, brushes, and canvas, and immerse yourself in the joy of creating beautiful acrylic paintings step by step.
Thank you for visiting us. I hope you liked these beautiful acrylic painting ideas. You can also visit 80+ Easy Acrylic Painting Ideas For Beginners – Inspiration post for more inspiration. Please share & like on pinterest.