Hello! I know you are interesting to acrylic art. I complied for you best easy acrylic painting ideas for beginners (some of them not too easy). Today's consept is summer painting ideas. I hope you will love and get inspire! If you are interested have a look 50+ Landscape Acrylic Painting Ideas .
Summer is a wonderful time to explore your artistic side with acrylic painting. Whether you're a beginner or have some experience, there are plenty of easy and enjoyable summer-themed painting ideas to dive into. One idea is to paint a tropical beach scene with palm trees swaying in the breeze, turquoise waters, and a vibrant sunset casting warm hues across the sky. This allows you to experiment with blending colors and creating a sense of depth and movement.
Summer acrylic paintings
Those who are new to acrylic painting generally cannot decide what to paint. For this reason, I gathered some acrylic art painting ideas for you. In this way, you will be able to decide what you want to paint and get your inspiration. Check out these acrylic paintings painted with these vibrant summer colors.
Acrylic painting on canvas
Additionally, summer landscapes provide endless inspiration. You can paint a serene countryside scene with rolling hills and fields of wildflowers, a bustling cityscape with people enjoying outdoor activities, or even a peaceful lakeside view with boats and reflections on the water. These landscapes allow you to explore different perspectives, lighting, and atmospheric effects.
Butterfly painting
Sky painting
Window painting
Sea painting
Flower painting
Another idea is to paint summer flowers, such as sunflowers, daisies, or hibiscus. These cheerful blooms are a great subject for beginners, allowing you to practice blending colors and adding depth to your paintings. You can also explore painting summer fruits like watermelons, pineapples, or strawberries, capturing their juicy textures and vibrant colors.
Another fun summer-inspired painting idea is to capture the beauty of blooming flowers. You can choose vibrant and colorful flowers like sunflowers, daisies, or roses, and create a still life arrangement or paint them in their natural setting. This allows you to explore different brush strokes and techniques to create texture and detail in the petals and leaves.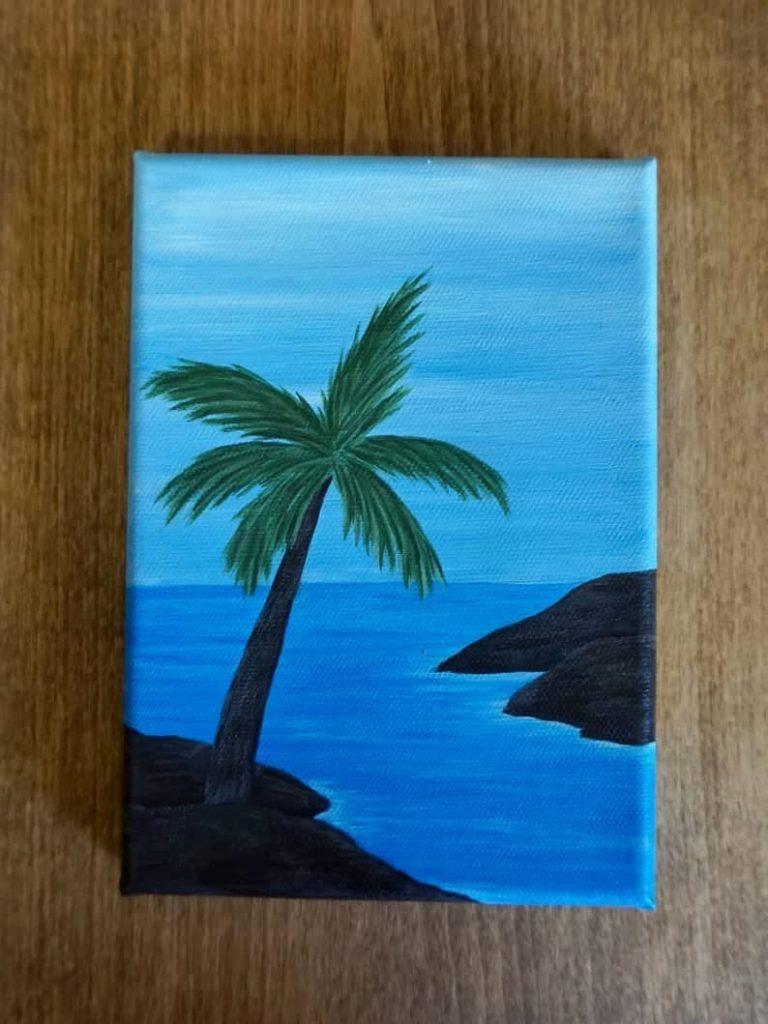 Summer acrylic painting offers a delightful opportunity for beginners to explore their artistic skills and immerse themselves in the vibrant colors and joyful themes of the season. From tropical landscapes to blooming flowers and captivating seascapes, there is a wide range of subjects to choose from. With acrylics' versatility and forgiving nature, beginners can experiment with different brushstrokes, layering techniques, and color blending to bring their summer-inspired creations to life.
Whether you're capturing the warmth of a sunset, the tranquility of a beach, or the beauty of summer blooms, let your imagination soar and embrace the joy of painting as you embark on your summer acrylic art journey. So grab your brushes, mix your colors, and let the magic of summer unfold on your canvas.
Thank you for reading. I hope I was able to show pictures that can open your horizons on acrylic painting. I love you. Please share these acrylic paintings on Pinterest. Also you can look our Easy Acrylic Painting Ideas For Beginners.