Helloo! Today I have great acrylic art ideas for beginners. All of us love sun and water. I know you want to inspire from these beautiful sea paintings. So I complied best sea painting ideas and tips for you. I hope you like these colorful paintings and get inspire! You can also visit for more acrylic painting ideas. 50+ Fantastic Acrylic Painting Ideas For Beginners Landscape & Nature

Immerse yourself in the mesmerizing beauty of the sea with amazing acrylic sea painting ideas for beginners. Whether you're drawn to tranquil beach scenes, crashing waves, or vibrant marine life, the possibilities are endless when it comes to capturing the essence of the ocean on canvas. Acrylic paint's versatility and quick-drying properties make it an ideal medium for exploring the textures, colors, and movement of the sea. From creating realistic seascapes to experimenting with abstract interpretations, beginners can dive into the world of acrylic sea painting and unleash their creativity.
Easy acrylic sea painting ideas
To get started, gather your art supplies and select a reference photo or sketch to guide your composition. Experiment with different brushstrokes and techniques to recreate the shimmering surface of the water, the interplay of light and shadow, and the intricate details of seashells and coral. Don't be afraid to mix and layer colors to achieve the depth and richness of the sea. Explore various painting techniques, such as wet-on-wet blending, dry brushing, and glazing, to bring your seascape to life.
As a beginner, it's important to practice observation and study the unique characteristics of the sea. Observe the way light reflects off the water, the subtle variations in color, and the movement of waves. Pay attention to the textures and patterns found in seashells, rocks, and other elements of the shoreline. By honing your observation skills, you'll be able to capture the intricate details that make your acrylic sea painting truly remarkable.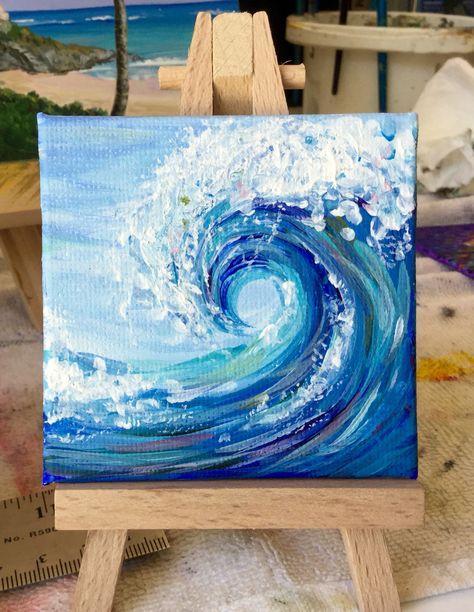 To enhance your acrylic sea paintings, don't shy away from incorporating other elements into your artwork. Consider adding elements like a lone sailboat on the horizon, seagulls soaring through the sky, or a picturesque lighthouse standing tall against the crashing waves. These details can add depth, narrative, and visual interest to your paintings, making them even more captivating.
Acrylic Sea Painting Tips
In addition to exploring different subjects, don't be afraid to experiment with different painting techniques and styles. Acrylic paints offer a wide range of possibilities, from bold and vibrant brushstrokes to delicate washes and glazes. Play with texture by using palette knives or sponges to create interesting effects that mimic the movement and texture of the sea. Mix colors to create your own unique palette and explore different color harmonies that evoke the mood and atmosphere you want to convey.
Remember, the key to creating amazing acrylic sea paintings as a beginner is to practice regularly and embrace the joy of the process. Don't be discouraged by imperfections or mistakes; they are part of the learning experience. Enjoy the freedom that acrylic paints offer, as they allow you to layer, blend, and make adjustments as you go. Be open to learning from other artists, studying their techniques, and seeking inspiration from the vast array of sea-themed artworks available.
So, grab your brushes, set up your easel, and let the beauty of the sea inspire your acrylic paintings. Allow yourself to explore, experiment, and grow as an artist. With each stroke of your brush, you'll be bringing the captivating allure of the ocean to life on your canvas. Embrace the journey and enjoy the fulfillment that comes with creating stunning acrylic sea paintings as a beginner.
I hope you liked. Please share & follow us on Pinterest. See you!